Overview of Equipment:
High temperature rate of change with uniformity and reproducibility
The Rapid-Rate Thermal Cycle Chamber is ideal for test requiring quick changes 15°C/min ramp rate in specimen temperature and 23°C/min ramp rate for air temperature. It covers various applications from JEDEC, IEC standards to screening.
It features new technologies, such as a specimen temperature control function maintaining linear specimen temperature change rates during rapid thermal cycling, and temperature ramp control.
Specifications

| Model | Temperature range | Inside / Outside dimensions (mm) |
| --- | --- | --- |
| TCC-150W | -70 to +180°C (-94 to +356°F) | W800×H500×D400 / W1000×H1808×D1915 |
Compatible Test standards
IEC-60749-25 : Semiconductor devices – Temperature cycling
IEC-60068-2-14 Nb : Environmental testing – Change of temperature
IEC-61147-5 : Liquid crystal and solid-state display devices – Environmental, endurance and mechanical test methods
JESD22-A105-B : Solid State Devices, testing quality and reliability – Power and temperature cycling
SAE-J1211 : Automotive components – Recommended environmental practices for electronic equipment design
IPC-9701 : Performance test methods and qualification requirements for surface mount solder attachments
Features:
Uniformity, reproducibilityWind simulation allows achieving minimum temperature variations of the specimen, for accurate and quick temperature changes. Specimen temperature ramp rate is 15°C/min, air temperature ramp rate is 23°C/min.Greater temperature ramp control
High precision of the specimen temperature control achieved thanks to a sensor for temperature specimen measurement, and the embedded high-speed controller.
In addition:
refrigeration capacities increased at low temperatures,
minimization of the difference between test area and specimen temperatures,
airflow speed uniformity,
lead to excellent temperature ramp control.
Selection of the temperature control mode
Two temperature control modes are available:
A specimen temperature control mode meeting ramp rate conditions of JEDEC standard (15°C/min.)
An air temperature control mode for temperature cycle tests.
Free accessCable ports are equipped on both left and right side, to ease specimen access and wiring.
Specimen temperature ramp control (Example)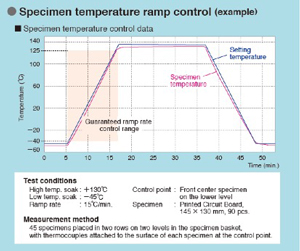 Test conditions
| | | |
| --- | --- | --- |
| High temp. soak | : | +130°C |
| Low temp. soak | : | -45°C |
| Ramp rate | : | 15°C/min. |
| Control point | : | Front center specimen on the lower level |
| Specimen | : | Printed Circuit Board, 145 × 130 mm, 90 pcs. |
Measurement method
45 specimens placed in two rows on two levels in the specimen basket, with thermocouples attached to the surface of each specimen at the control point.
Temperature change (Example)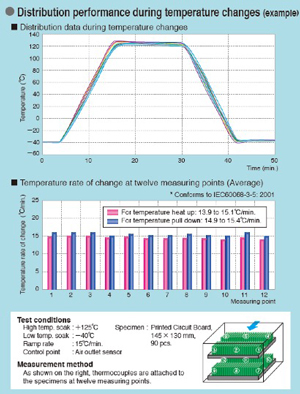 Test conditions
High temp. soak
:
+125°C
Low temp. soak
:
-40°C
Ramp rate
:
15°C/min.
Control point
:
Air outlet sensor
Specimen
:
Printed Circuit Board, 145 × 130 mm, 90 pcs.
Measurement method
As shown on the right, thermocouples are attached to the specimens at twelve measuring point.
TEST STANDARD (TCC-150W COMPATIBILTY)

Test standard
Temperature setting
Temperature
change rate
Soak time
Number
of cycles
High temperature (°C)
Low temperature (°C)
IEC 60749-25
(JESD22-A104-D)
G
+125 (+15, -0)
-40 (+0, -10)
Specimen temperature,
15°C / min. or less
1, 5, 10, 15 min.
Not specified
I
+115 (+15, -0)
-40 (+0, -10)
J
+100 (+15, -0)
0 (+0, -10)
K
+125 (+15, -0)
0 (+0, -10)
L
+110 (+15, -0)
-55 (+0, -10)
N
+80 (+15, -0)
-30 (+0, -10)
O
+125 (+15, -0)
-25 (+0, -10)
IEC 60068-2-14 Nb
(JIS C 60068-2-14 Nb)
+175 ±2
+155 ±2
+125 ±2
+100 ±2
+85 ±2
+70 ±2
+55 ±2
+40 ±2
+30 ±2
-65 ±3
-55 ±3
-40 ±3
-25 ±3
-5 ±3
+5 ±3
1±0.2°C / min.
3±0.6°C / min.
5±1.0°C / min.
(AVG)
Average for up to fi ve minutes
3 hours,
2 hours,
1 hour,
30 min.,
10 min.
3 hours if not specified in product specifi cations
2
IEC-61747-5
(EIAJ ED-2531A)
+100 ±2
+95 ±2
+90 ±2
+85 ±2
+80 ±2
+75 ±2
+70 ±2
+65 ±2
+60 ±2
+55 ±2
+50 ±2
+45 ±2
+40 ±2
+35 ±2
+30 ±2
-50 ±3
-45 ±3
-40 ±3
-35 ±3
-30 ±3
-25 ±3
-20 ±3
-15 ±3
-10 ±3
-5 ±3
-0 ±3
1±0.2°C / min.
3±0.6°C / min.
5±1.0°C / min.
(AVG)
Average for up to fi ve minutes
3 hours,
2 hours,
1 hour,
30 min.,
10 min.
3 hours if not specified in product specifi cations
2
JESD22-A105-B
A
+85 (+10, -0)
-40 (+0, -10)
6.25°C / min.
10 min.
1000
B
+125 (+15, -0)
-40 (+0, -10)
5.5°C / min.
IPC-9701
TC1
100
0
Specimen temperature,
20°C / min. or less
Specimen temperature,
10 min.
200
500
1000
3000
6000
TC2
100
-25
TC3
125
-40
TC4
125
-55
TC5
100
-55
IPC-TM-650 2.6.6
A
+125 (+3, -0)
-65 (+0, -5)
–
30 min.
5
B
+85 (+3, -0)
-55 (+0, -5)
SAE-J1211
+85 to +150
-40
4 to 6°C / min.
Low temperature,
4 hours
–