Overview of Equipment:
VAC series
Fundamental equipment for electronics production
These units has been exclusively designed for vacuum heat treatment such as defoaming, deaerating, hardening or drying, essential processes in the production of electronic components.
Eco model

Thanks to improved air-tightness and sealing capacity, the chamber achieves 20 to 40% savings in energy consumption. (Compared to previous model)

Program operation

Control programs possible by combining temperature and 5 pressure operation modes.

Variety of options

More than 20 options are available to meet customers' needs.
Specifications

Model
Temperature & pressure range
Inside / Outside dimensions (mm)
VAC-101P
+40 to +200°C (+104 to +392°F) / 933 to 1×10

2

Pa
W450×H450×D450 / W902×H1392×D780
VAC-201P
W600×H600×D600 / W1052×H1532×D930
VAC-301P
W800×H800×D800 / W1252×H1772×D1130
LCV series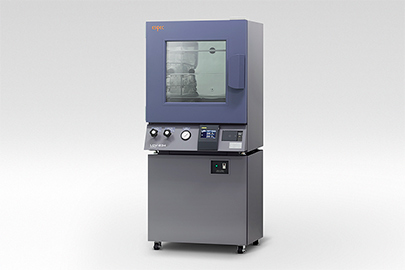 Specifications

Model
Temperature & pressure range
Inside / Outside dimensions (mm)
LCV-233
Ambient temperature to +200°C (+392F) / (Gauge) 0 to -101kPa
W450×H450×D450 / W670×H890×D700
LCV-343
W550×H550×D550 / W770×H990×D800
Features:
VAC series
Uncompromising energy-saving mechanisms

Max. 40% of energy savings can be achieved through various structure improvements: superior insulation materials' use, enhanced door lock, etc. for better insulation and air-tightness.

Flexible programming of the operation mode

A wide variety of programs can be designed by combining constant and programmed temperature operations with one of the 5 pressure operation modes (Automated operation, continuous operation, open to atmosphere, gas exchange, and ventilation operation) Up to 40 patterns can be set, with 99 steps per pattern programmable.

Double-layered interior construction

The interior of the vacuum chamber is equipped of a double structure. A heater surrounding the internal chamber allows great uniformity performance by minimizing heat loss.

Revamp high-speed processing controller

User-friendly configuration allows easy operation of the different commands. Bright touch panel with speedy information processing.

Register test patterns

Up to 40 patterns for program operation and 3 patterns for constant operation can be registered.

Broad range of options

Over 20 options available to best suit your application.

Expert Mode (Option)

Control of the pressure increase / decrease can be achieved in 6 stages; an operation is memorized when performed the first time and can be called up to accurately repeat the process.

Viewing window (Option)

Slightly curved viewing window, eliminating any exterior reflection.
P-Instrumentation

Pressure operation (Expert Mode)

Viewing window
LCV series
Direct heating system for fast vacuum-dry

In addit ion to the ga s exchange function, it can treat specimens in oxygen-free atmospheres using nitrogen or other gases, and supports baking, degassing, hardening, deaeration and numerous other applications.

Easy operation

Temperature setting and upper/lower temperature limit alarm setting can be done with simple key operation.
* Measurement results above are shown as an example.