Overview of Equipment:
Electromigration evaluation at 400°C
The operating life of semiconductor devices relies on microfabrication and new materials, and therefore, electromigration evaluation under more rigorous life acceleration conditions is important.
This system is equipped with analytical software to obtain the parameters necessary for determining the device life from accurate measurements of the life acceleration factors of temperature and current stress.
The AEM-2000 Electromigration Evaluation System features improved operability, reliability, and ease of data analysis for various applications from tip evaluation to production control, and it accurately meets customers' needs for evaluation.
Main specifications

Stress current source
Setting ranges
+DC0.1mA to 200mA
Following voltage
35V
Extrusion test voltage
Setting ranges
-10.0 V to -1.0 V and 1.0 V to 20.0 V
Accuracy
±(2% of setting value+20 mV)
Oven
Temperature control range
+65 to +400°C
Temperature fluctuation width
±0.5°C (+65 to 350°C)
Temperature uniformity
±2.5°C (+65 to +350°C)
Accessories
Nitrogen gas connecting port
System variation

Model
AEM-240C3
AAA
AEM-160C2
0AA
AEM-080C1
00A
EM module output current
Oven 1
200mA
200mA
200mA
Oven 2
200mA
200mA
–
Oven 3
200mA
/
Number of evaluation channels
240ch
160ch
80ch
DUT board
Number of boards
24 (8× 3 ovens)
16 (8× 2 ovens)
8
IC sockets
5 sockets/board (both DIP 28-pin 600 mil and 300 mil)
Control cabinet dimensions (mm)
W580×D1220×H1945
W580×D1220×H1490
Structure
Features:
240-channel evaluation testing in 1 cabinetEach DUT board has 5 sockets, and each oven can accommodate 8 DUT boards. Each socket can accommodate up to 2 DUTs to enable testing of 2 samples. Perform evaluation testing of up to 80 DUTs in 1 oven.
240-channel type
High-precision oven with a high temperature of 400°C

The oven can reach a testing temperature of 400°C, and it features outstanding precision with a distribution of ±2.5°C at 350°C. Mount up to 3 ovens in each cabinet to enable evaluation under different temperature conditions for each oven.
Wide current stress application up to 200 mA

Apply a stress current from 0.1 mA to 200 mA.
The socket accepts both 28-pin 600-mil and 300-mil.
Newly developed highly reliable board

The double contact configuration (patent pending) enables the connectors between the DUT board and sockets to be firmly fixed, and the unique ESPEC design ensures a solid connection of the DUTs and sockets.
The new configuration enables long-term evaluation under high temperatures and ensures high reliability.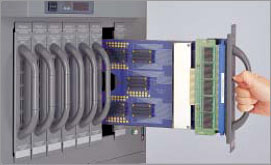 Pin assignment scramble function

The pin assignment scramble function of the ESPEC DUT board enables evaluation even for DUTs with different pin assignments.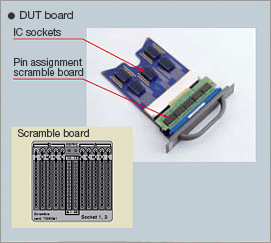 Monitor Screen:
The monitor screen lets you check the test progress status, resistance value, and rate of change for all DUTs in real-time at a single glance.
Use the test condition setting screen to enter and check all items on a single screen.
Monitor screen
Analytical Software: