It is available from 1,100-liter, 1,650-liter, and 2,200-liter models. Unlike conventional chambers, this large capacity enables thermal shock testing of large automobile parts, large flat panel displays, and relatively large products that could not be previously tested due to their size or weight. This is ideal for customers who need to quickly test large amounts of specimens, such as for quality inspection during the production process.
Large-capacity test area

Available following three large-capacity models.

TSA-1100-W 1000(W)×1100(H)×1000(D)mm
TSA-1650-W 1500(W)×1100(H)×1000(D)mm
TSA-2200-W 2000(W)×1100(H)×1000(D)mm
TSA series common operability

Basic control method is common by using the same interactive touch panel instrumentation as that of the standard TSA series for easy operation.
Considerable design for installation

Large-capacity chambers bring with them the problems of installation space. This chamber has been designed to reduce protrusions as much as possible to minimize the size of the device. In addition, the refrigerator can be accessed from the rear for ease of maintenance.
Easy insertion and removal of heavy specimens

With larger specimens and a larger loading capacity, the weight of the specimens increases.
Various mechanisms enable easy insertion and removal of such specimens.

Designed lower floor of the test area by placing the hot chamber on top and the cold chamber in the rear.
Customized floor for a specimen loading hand lift truck.
Doorstopper prevents accidents when closing the door during operation.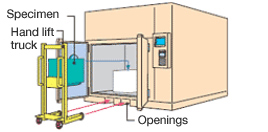 Chamber structure
Main specifications

Model
TSA-1100S-W
TSA-1650S-W
TSA-2200S-W
TSA-1100H-W
TSA-1650H-W
TSA-2200H-W
Method
Two-zone by means of damper switching (three-zone optional)
High-temp. exposure range
+60°C to +150°C
+60°C to +180°C
Low-temp. exposure range
-50°C to -10°C
-60°C to -10°C
Hot chamber max pre-heat setting temperature
+180°C
+200°C
Hot chamber temperature heat-up time
Within 40 minutes from ambient temperature to +180°C
Within 30 minutes from ambient temperature to +200°C
Cold chamber min pre-cool setting temperature
-65°C
-75°C
Cold chamber temperature pull-down time
Within 150 minutes from ambient temperature to -65°C
Within 150 minutes from ambient temperature to -75°C
Within 80 minutes from ambient temperature to -75°C
Within 90 minutes from ambient temperature to -75°C
Temperature recovery time

Two-zone
High-temperature exposure: +85°C, 30 min.
Low-temperature exposure: -40°C, 30 min.
Power supply voltage: 200 V AC
Sensor position: upstream
Recovery rate: within 10 minutes

Two-zone
High-temperature exposure: +150°C, 60 min.
Low-temperature exposure: -50°C, 60 min.
Power supply voltage:
200 V AC, 3 ohm, 3W, 50/60 Hz (Supporting any power supply voltage as an option)
Sensor position: upstream
Recovery rate: within 10 minutes

Specimen (iron kg)
50kg
100kg
100kg
50kg
100kg
100kg
Test area
W1000mm
H1100mm
D1000mm
W1500mm
H1100mm
D1000mm
W2000mm
H1100mm
D1000mm
W1000mm
H1100mm
D1000mm
W1500mm
H1100mm
D1000mm
W2000mm
H1100mm
D1000mm
Outside dimensions
W2120mm
H1990mm
D2883mm
W2620mm
H1990mm
D2883mm
W3120mm
H1990mm
D2972mm
W2120mm
H1990mm
D2883mm
W2620mm
H1990mm
D2883mm
W3120mm
H1990mm
D2972mm
Weight
Approx. 3,400kg,
Approx. 3700kg
Approx. 3,900kg
Approx. 3,500kg
Approx. 4,200kg
Approx. 4,300kg
Power supply voltage
200 V AC, 3 ohm, 3W, 50/60 Hz (Can support any power supply voltage as an option)
Maximum current value
125
180
198
172
270
310
Cooling water volume
(25°C water) L/hr
1540
2400
2400
2400
4800
4800
Cooling water volume
(32°C water) L/hr
2800
4440
4440
4440
8880
8880
Piping connection port diameter
32A
32A
32A
32A
50A
50A